If you are interested in having dental implants, it is imperative to have a separate initial appointment first to assess if your oral health is suitable to cater a dental implant.
With oral examination and CBCT, our dentist Sydney will be able to check if you are a good candidate for dental implants.
How much are dental implants in Sydney?
Our dental implant costs at $5,199. This is our dental implant package priced efficiently and precisely. This is bundled as dental implant and tooth restoration.
We provide a competitive and affordable rate by using dental equipment such as Cone Beam Computed Tomography (CBCT) and Computer-aided design & computer-aided manufacturing (CAD/CAM) software. These are bundled with precision milled dental implant systems made and utilised in the USA.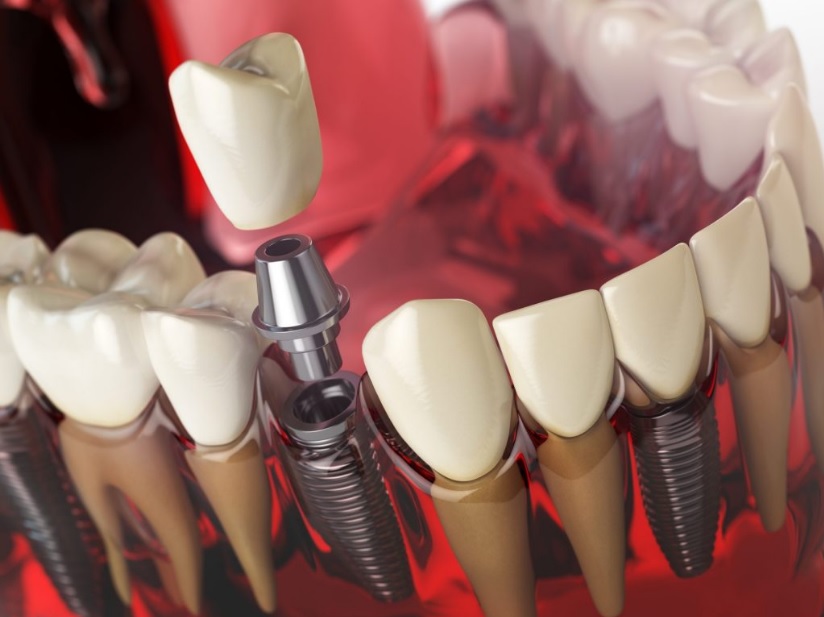 Our tooth implant priced at $5,199 covers most of the dental implant procedure including Cone Beam Computed Tomography (CBCT), the implant surgery and the implant crown. This is priced lower compared to the normal dental implants cost in Sydney which ranges from $3,000 to $7,000.
However, there are still pre-surgical requirements that you might need before proceeding with dental implant treatment. This includes gum surgery, bone augmentation, bone grafting, or other rehabilitation procedures.
Bone grafting, for example, is priced at $300 which can be done on the same day of implant surgery. For other procedures that require specialised treatment, these will be referred to our trusted specialists, or any dentist you prefer.
For the restorative material, which is the crown tooth placed on top of the dental implant, it will be made of Cerec crown created chairside. This is our standard crown included in the implant package.
If you prefer a tooth crown which is fabricated by the laboratory, you will need to pay an extra charge depending on the type of material you choose. Cosmetique Dental will provide you with the laboratory price of your preferred dental crown once you have finalised your decision. 
There will be a 5-year warranty for our dental implants that will be applied to patients who have successfully attended their 6-month checkup and cleaning. It must be noted that these visits should be consistent and gap-free to qualify for the warranty.
Check-up and cleaning will be done on any Sydney clinic under Cosmetique Dental.  For those patients who don't have a dental coverage insurance, post-operative implant check-up every 6 months is priced at $199 per visit.
Tooth implant cost in Sydney varies from case to case. In our clinic, the cost of a tooth implant is capped at $5,199. This package applies to our Sydney CBD; North Ryde/Macquarie Park; Hornsby; Parramatta and North Sydney locations. This package is bundled as dental implant + CEREC dental crown.
For more information and inquiries, you can contact us at (02) 8090 1101 or e-mail us at info@cosmetiquedental.com.au
Cosmetique Dental is always ready to cater for your dental needs, especially dental implants. If you wish to know more about your case, treatment options, and cost of dental implants, kindly give us a call on the number listed above or click the button down below to book online.